My MG Page
What is an MG, you ask? Well, if you need to ask, you probably don't need to be looking at this page. Simply put, MG is a marque of British sports cars that was in production in the 1940-1970s. It returned to production in 1995 with the MG F which is, sadly, not available in the United States. Check out the links below for more information.
---
MG's and me
Not much to tell, really. I'm the owner of a 1970 MG Midget which I'd been unable to drive for over five years -- when I'd moved out of the USA. But I'm back now and it's running again!

Here's a picture I took circa early 1990's...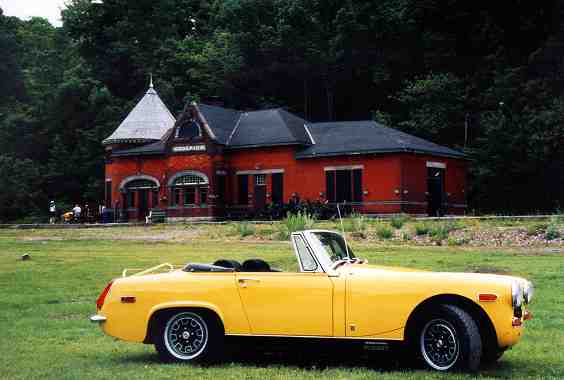 This picture was taken at an old rail station in Canada (Godrich, Ontario if I'm not mistaken). I believe I'm the third owner of this car, the first being some guy from Florida (hence the Scuba Diving sticker that was on the back when I bought it) and the second being some guy from southeastern Michigan. He had gotten married and ending up deciding to sell the car in order to<gasp> build a deck on his home. Will I end up with the same fate, I wonder?
Purists will note that this is not a stock MG color and if you can correctly identify the name & year of the type of car that actually wore this color, I grant you the title of Paint Master Extraordinaire.
---
Interesting Links Related to MG's
---
Back to Home Page
Questions or comments?
Sign the guestbook.
Created: Sep 5, 1995
Last Updated: Mar 22, 2001
You are visitor number or thereabouts